The car
You will be driving a Renault Clio as your training vehicle. This is a very stylish and exiting car, acceptable to both young drivers and older persons. It has a roomy cabin that can will easily seat the larger driver, with comfortable seating adjustable in three planes.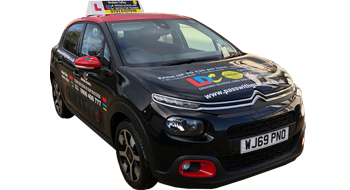 Although with a good sized cabin, the relatively small, overall exterior dimensions of the car make it ideal for learners, as do the responsive steering and positive manual gearbox.
This vehicle has power assisted steering, to make your manoeuvres easy on the arms, with Anti lock Braking System, Electronic Stability Program and Electronic Brake Assist all of which help you keep control the car in poor weather/road conditions.
The car is fully equipped for training with additional mirrors and dual controls.
Specifications Include:
Power Assisted Steering
Air Conditioning
Disc brakes front and rear
Dual Controls
Additional driving mirrors
Electric Tinted Windows
Fully adjustable Seating
Adjustable Steering Wheel
Spacious Interior
A full compliment of 6 airbags
Traction Control
Stop/start technology
If you would like more details about the car or would like an assessment lesson to see if it is suitable for you then please feel free to "contact me"